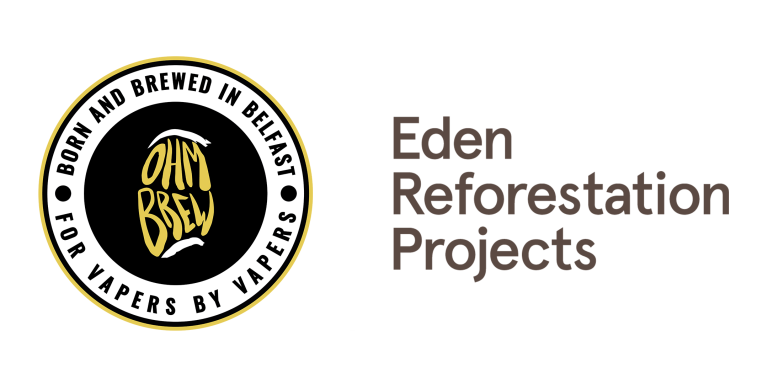 Ohm Brew x The Eden Project: Over 24,000 trees and counting!
Did you know that for every four Brew Bars we sell, we plant one tree? See how we're working to tackle the environmental issues that disposable vapes cause.
If you've ever gone for a walk or a jog in your neighbourhood, you'll know you only have to go a couple of steps before you see a disposable vape on the ground.
It's estimated that 1.3 million disposable vapes are thrown away in the UK every week. Not only are they an eyesore and a potential fire hazard, but the contaminants can run off into our water supplies, causing damage to wildlife and polluting our rivers.
We've talked a lot about disposable vapes in the past and the environmental issues they can cause if not used or got rid of correctly.
So we've decided to do what we can to make the world a bit greener. For every four of our Brew Bars we sell, we're planting a tree.
Okay, not us personally. We don't know where the spades are kept. But we've partnered up with the best in the business. We're working with The Eden Project, which is planting trees all across the world through Eden Reforestation Projects.
Disposable vapes have a significant environmental impact, not just through manufacturing, but the valuable materials like lithium they contain, which are often just thrown away.
It's estimated that chucking disposable vapes away produces a carbon footprint of 2,200 tonnes a year. Just for context, that's the equivalent of driving over 50.6 million miles or charging 268 million smartphones.
By planting trees across the world, we're working to offset this carbon footprint, and help bring the world down to net zero.
So far, Eden Reforestation Projects has planted over 24,000 trees on our behalf, in places including Brazil, India, the Philippines and Africa.
Not only is the Eden Reforestation Project helping to make the world a greener place, but it's promoting local employment and helping communities in extreme poverty become self-sufficient. For example in Madagascar, the organisation has empowered nearly 12,000 people, helping them earn a fair wage.
Absolute legends, the lot of them.
Disposable vapes for trees? Yes please!
We acknowledge that this isn't the solution to the problem at hand. Some people are still using disposable vapes irresponsibly, and if they don't change their ways, we're going to start seeing bans come in, like in Ireland.
However, we like to think this is a step in the right direction. Corporate social responsibility is something that is critical to us here at Ohm Brew. We believe it's important to always do the right thing, even if no one is watching.
Own a vape store? Here's some more information about selling responsibly